Custom Websites
An online catalogue website branded with your logo and details. There is a choice of un-priced or priced websites with the ability to display our real-time stock levels.
For convenience we offer marked-up prices, using our tried-and-tested price calculator. Alternatively we can offer a single percentage mark-up across all products. See our unbranded example custom website here: www.ourclothingcollection.co.uk.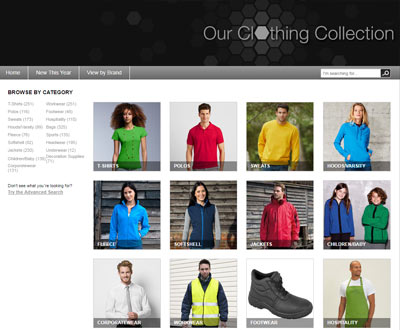 Unpriced Custom Website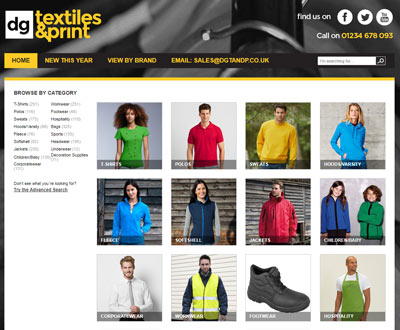 Priced Custom Website
Garments up to the trade price value of:
3 Qty Breaks
£2.00
£5.00
£10.00
£20.00
£40.00
£41+
1 – 49
175%
125%
100%
75%
50%
40%
50 – 99
165%
115%
90%
70%
45%
35%
100 +
155%
105%
80%
65%
40%
30%
Custom e-Brochures
Same great layouts as our printed catalogue but in a branded electronic form.
Product Data
Access our data

FTP: images, logos and product data available via an online portal.
Image Hosting: images, logos and product data available via a web address.
Integrating stock levels

2 options:
Web Service is a dialogue between your website and our server requesting live information.
Link your system/webstore to a spreadsheet in your FTP site containing the stock level information.
Electronic Order Imports (EDI)
Avoid double-keying and send your orders as electronic data files imported directly into our system.
Download Area
Part of the 'My Account' area of the web store, where you can access PDF brochures, order forms, price lists and more.
Speak to your Account Manager about gaining access to these great services.
Custom Delivery Notes
We can ship your orders directly to your customers without our name appearing on the paperwork.
Treat our warehouse as if it were yours. We provide delivery notes featuring your logo and contact details so that they can be included with all orders sent directly from our warehouse to your customer.