SUSTAINABILITY MATTERS
Mantis World have been using organic cotton since 2005 and will convert their entire collection to more sustainable fibres by 2021
Why it matters?

The GOTS® (Global Organic Textile Standard) is a guarantee of the organic status of textiles; from the harvesting of raw cotton to dispatch of the finished garments whilst ensuring all is done in an environmentally and socially responsible manner.

The SA8000® standard is a common code of social compliance, based on the principles of the International Labour Organisation, United Nations and national laws, and supports sustainable implementation of policies and procedures that protect the rights of workers.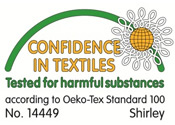 The Oeko-Tex® Standard 100 is an independent certification system that tests textile raw materials, intermediate and end products for harmful substances at all stages of production.

The Business Social Compliance Initiative (BSCI) – a non-profit organisation dedicated to the improvement of working conditions in the supply chain, with factories audited against the BSCI base code. Mantis World works with suppliers that are BSCI compliant or equivalent.

Mantis World is proud to be a member supporting the work of Textile Exchange (TE). TE (formerly Organic Exchange) is a non-profit organisation operating internationally and is committed to the responsible expansion of textile sustainability across the global textile value chain.

We are proud to be a Founding Partner of the Fellowship 500 as organised by the Ethical Fashion Forum and which brings together 500 pioneers in the ethical fashion industry to offer inspiration and support.